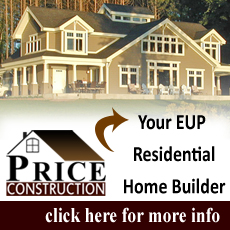 Eastern Upper Peninsula Construction
Newberry, MI, Curtis, MI, Paradise, MI, Engadine, MI, Seney, MI, Hulbert, MI, Grand Marais, MI, McMillan, MI, & the entire Pike Lake and Pine Stump Junction area




Camp and Cabin Construction for the Pike Lake Area
Don has been involved in our local Fire Department for years and understands the struggles that families go through after they have suffered a loss due to fire. Price Construction has many years of experience processing insurance claims working with insurance adjusters enabling the homeowner to get the most for their claim. Price Construction Inc. can provide our expertise in assisting Pike Lake residents in the rebuilding process.
U.P. Cabin Contractor Services

Camps and cabin construction
Kitchens, custom cabinets and counter tops, bathrooms, custom trim, basements
Cabin additions
Garages
Siding – Vinyl, cement fiber, cedar and log
Replacement Windows
Cultured stone work - rustic camp fireplaces
Concrete Flat Work
Roofing

Three Generations of Upper Michigan Cabin Construction Services
Price Construction takes pride in our cabin construction services for our Upper Peninsula neighbors. We have three generations of experience building camps, cabin construction, remodeling, and additions just to name a few. Upper Michigan cabin construction and remodelling for Newberry, Engadine, Curtis, Hulbert, Paradise, Seney, Grand Marais, McMillan, & the Pike Lake and Pine Stump Junction area.